Exhibitions
Moon's Milk
The art of Dolorosa de la Cruz
8-24 September 2022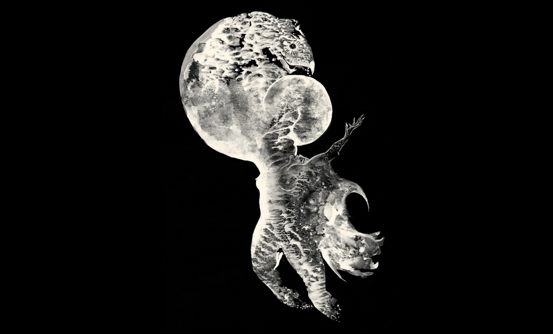 The first solo exhibition at GalleryX of Ireland's foremost esoteric artist and gallery co-curator, showcasing her latest works on paper.
Moon's Milk is the eternal feminine, the menstrual cycle, and the magic nourishment that is our earliest sustenance – our eternal link to the great Mother, and to our own.
Featuring an impressive array of events including an exclusive Culture Night soirée.
Larbi Group Show
Curated by Dino Notaro
11-26 August 2022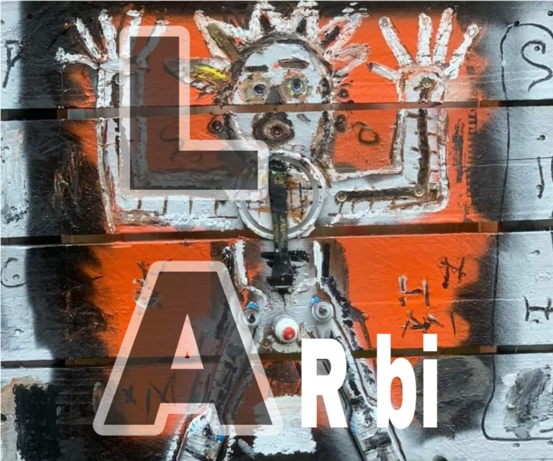 Featuring


Pigsy
Silvio Severino
Zane Sutra
Sofia Swatek
Sheila and Betty Hamilton
Niamh O'Connor
and artists from The Slow Lane Resident Collection
Larbi Group Show is a coming home of sorts. A re-emergence after two years of lockdown.
The artists chosen for Larbi are those that Dino collaborated with during the lockdown; now the opportunity has come to showcase their works within the space of a gallery setting and celebrate contemporary art in Dublin.
Each artist has their own distinctive style and commands an audience. Breaking down barriers. Creating art that challenges you to think and jump into stories.
SEASCA
An exhibition celebrating 60 years of The Contemporary Irish Art Society (CIAS)
8 - 30 July 2022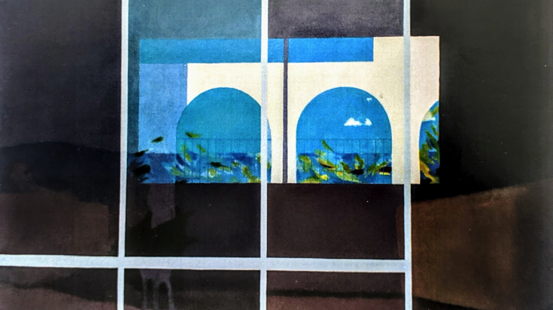 The Contemporary Irish Art Society celebrates their 60th anniversary with SEASCA, an exhibition of recent acquisitions by the CIAS.
Featuring donations and purchases in the recent past by the society, the show will highlight a varied collection of established and emerging Irish Artists. These artists will include Campbell Bruce, HRHA, ARCA, Eamon Colman, Edward Delaney, James Hanley, RHA, Sinead Ní Mhaonaigh and Neil Shawcross RHA, RUA, and GalleryX veteran Una Gildea, amongst others.
The CIAS was founded in 1962 with the purpose to encourage living Irish artists and purchase their work for distribution to public spaces throughout Ireland. The society also organises events during the year for its members and always welcomes new members.
CURATED BY TONY STRICKLAND & THE CIAS COUNCIL
FORESIGHT
Nadia Dev / Maria Johnston / Sol Robinson / Grace Sophia Rose
24 June - 2 July 2022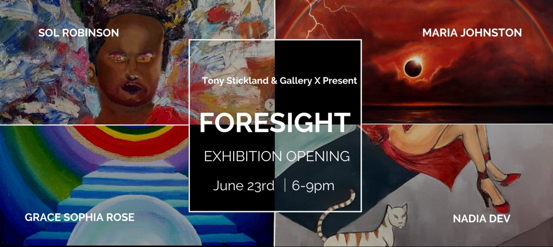 FORESIGHT brings together 4 artists who all work out of La Catedral Studios in Dublin. The quartet will showcase their recent paintings at Gallery X in June.
NADIA DEV
Nadia captures the ephemerality, beauty and psychology of the human condition. In her portraits, she uses colour and line expressively to convey emotion.
An American who is now based in Dublin, she studied at Otis College of Art and Design in Los Angeles and subsequently at The School of Visual Arts in Manhattan.
MARIA JOHNSTON
Maria is a self described Visionary Artist and her work can be best described as 'inner-worldly', drawing inspiration from her avid interest in dreams and visions, spirituality, nature, science, cosmology and astrology.
Johnston studied music at Trinity College Dublin (TCD) and her musical compositions inevitably fed back into her art after college and she now merges the two in her practice.
SOL ROBINSON
Sol's work explores the themes of the surreal within the morbid and mundane aspects of life. His portraits and landscapes represent both the outer and internal landscapes of the self, where dreams and reality merge onto the canvas.
Robinson was born in the Liberties, Dublin and continues to work and live there. He works in the media of oil, acrylic and watercolour painting.
GRACE SOPHIA ROSE
Grace's work is often symbolic, as she draws from the inner and metaphysical worlds or planes of existence. It references and explores sacred geometry, archetypal imagery, abstract symbolism, the cosmic and metaphysical.
Rose is an artist, healer and seer, living in Dublin. She graduated from NCAD (National College of Art and Design) with a joint B.A. in Fine Art and History of Art.
CURATED BY TONY STRICKLAND
Dr Dublin 'Retrospective'
10 - 18 June 2022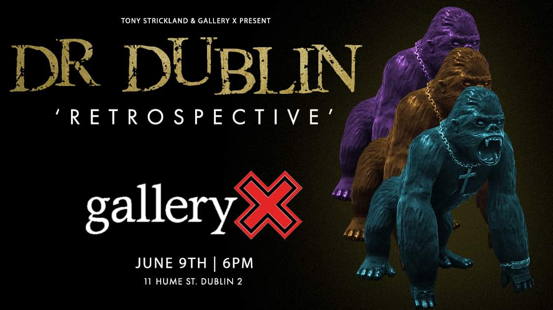 Artist and collector Dr. Dublin showcases a retrospective of his varied art practice at GalleryX in June.
Using many media, Dr. Dublin's RETROSPECTIVE will feature sculpture and wall based works exploring many different cultures and a macabre vision. These thought provoking, taboo pieces will surprise, shock and entertain the viewer. Expect an exhibition of visual delights as you enter the dark world of Dr. Dublin.
Dr. Dublin grew up in the Liberties and studied at NCAD (National College of Art and Design). He is inspired by many Asian cultures and influenced by artists such as Francis Bacon. His work has been exhibited extensively in Ireland as well as internationally.
CURATED BY TONY STRICKLAND
Andrii Strachov - Salvaged Dreams
20 May - 4 June 2022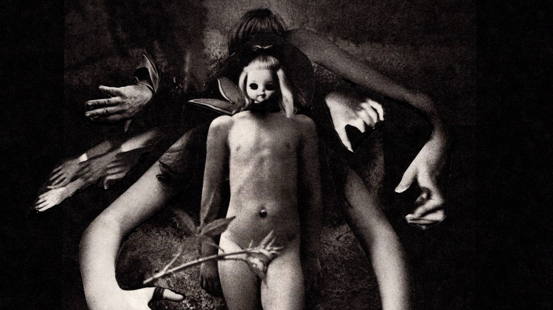 When Andrii Strachov wrote from Ukraine in early March 2022, asking us to help him keep a portion of his works safe from the Russian invasion, we could not pass on the opportunity to share the vision and talent of one of our favourite international artists.
Andrii Strachov's collages stir deep emotions in us. They stretch our fundamental understanding of what it means to be human. They open new psychedelic perspectives and challenge our vision of ourselves.
Starting with pages torn from long-lost magazines, the meticulous accretion of pictures – often taken from old medical texts or lost, censored or forbidden publications – creates a dream-like, or rather, nightmarish world to which the viewer is irresistibly drawn.
Boz Mugabe - Regurgitate
29 April - 13 May 2022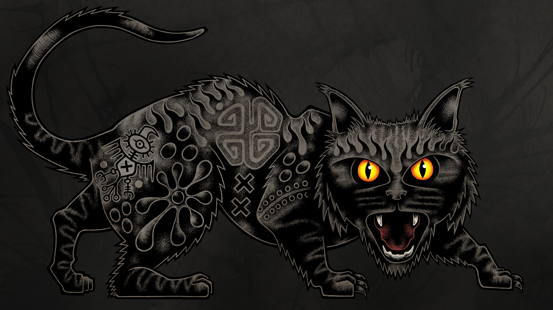 In a former life Boz worked rabidly by candlelight on illicit and heretical codices, narrowly avoiding much-deserved execution.
REGURGITATE is the process of harvesting ideas subconsciously incubated and cultivated in the human mind.
This series of images explores a continued compulsion to generate representations of deity, superstition, ceremony, strength, good and evil in anthropomorphic and zoomorphic form.
For this purpose, the artworks are essentially figurative portrayals of the mind worn on the outside. This could be a hypothetical culture or decaying codex unearthed by anthropologists and archaeologists. It draws from ideas of a world of imagination that is somehow apart from technological evolutionary processes.
Elements of divination, immersion, curiosity and rhythmic connection exist through random pairings and accidental deciphering of the work.
The Cabinet of the Solar Plexus: The Liminal and the Marvellous
24 March - 23 April 2022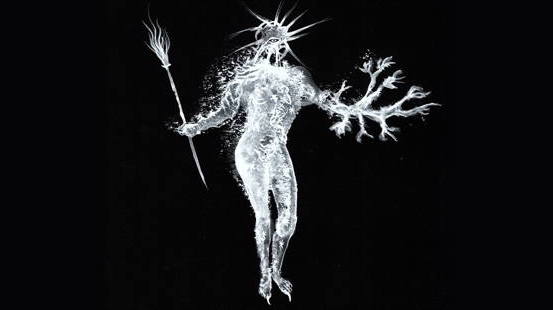 Presenting Art from the past and present by artists experimenting and influenced by occult magical practices, surrealist techniques and philosophies, folk magic ... the liminal...
This exhibition is an excursion into the world of the mystic, magi, visionary, chimeras, phantoms, alchemy, myth, erotica, clay and stone.
We are delighted to invite the viewer and the seeker to savour the potential and atmosphere evoked by the work featured.
Including works by Austin Osman Spare • Leonor Fini • Leonora Carrington • Alessandro Keegan • John Balance • Val Denham • Jan Konupek • Charlotte Rodgers • Teresa Elizabeth Lobos • Stephen Clark • Denis Mc Cambridge • Hans Bellmer • Hagen von Tulien • Jesse Jones • Misha Newitt • Joseph Vachal • Daniele Santagiuliana • Espira • Giselle Bolotin • Charlie Martineau • George William Russell Æ • Armando Fragale • Felix Labisse • Mimi Parent • Toyen • Friedrich Schröder-Sonnenstern • Dave Mitchell • Denis Forkas • Michael Bertiaux • Alberto Martini • Alvaro Barcala • Olive Desmond • Deirdre Nuttall • Una Gildea • Ralph Cusack • Mike Mignola • Madeleine LeDespencer • Jean Benoit • Brian Conniffe • Sara O'Rourke • Dolorosa de la Cruz • Zemaemidjehuty • Althea Gyles Wladd Muta • Conor Connolly • Stephen Pochin • Om Lekha
GalleryX reopening!
3-22 March 2022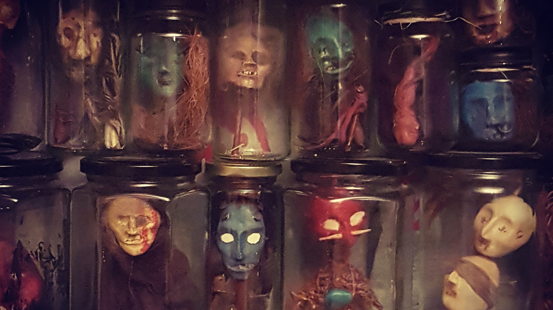 GalleryX returns once again with a new location and a new exhibition of wonderful and weird art.
We have also become the home for the Gubu Saga, possibly the most exciting work of outsider art in Ireland today.
Michael Hutter
7-10 November 2019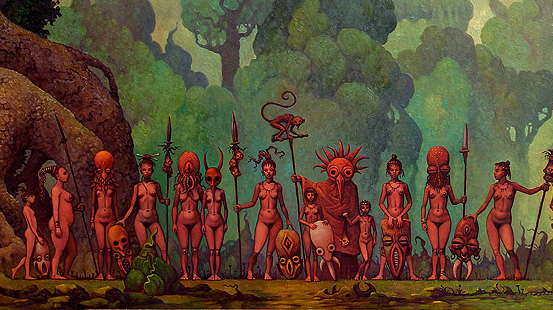 GalleryX returns from its hiatus with the first Irish exhibition of celebrated German master Michael Hutter. Showcasing essential works from the past 10 years, the exhibition will also mark GalleryX's debut at the Vue art fair, the most prestigious of Ireland's art exhibitions.
Please click here to view the exhibition catalogue and Contact Us to inquire about availability.
Blood Red Wine
The Art of Saturno Buttò
Curated by Marco Carboni
31 October 2018 - 25 January 2019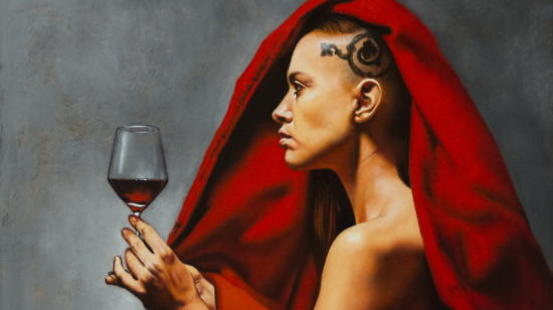 Entitled Blood Red Wine, the exhibition will feature a selection of paintings chosen among the maestro's wide opus to represent his take on the sensuality and sacredness of wine. Wine as blood, as a life-giving liquid. Wine as the lifeblood of European history and tradition. In the words of curator Marco Carboni:
"...blood is a 'sacred essence' possessing extraordinary powers, and has always occupied a prominent place in our religion, our culture, our science. Similarly, wine is food for the spirit even more than for the body, and thus it pertains to our spiritual culture. This is why we talk about a 'dionysian' view of existence: because wine, of which Dionysus is the God, stimulates an emotional and sensual path to understanding."
The Art of David Bowie
Original signed artworks by the most iconic musician of the 20th century
presented as part of the Dublin Bowie Festival
4-10 January 2018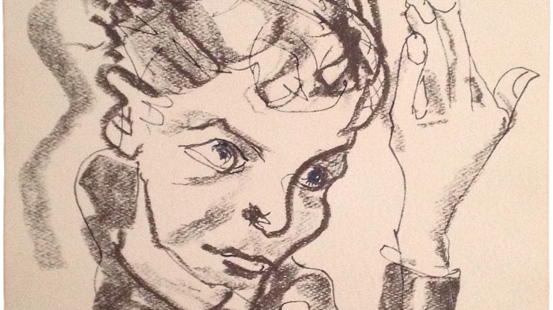 Showcasing original art by David Bowie from 1978 to 2002.
Each piece represents a different period in Bowie's life from the release of Heroes in 1978 to Outside in 1995.
Each lithograph print has been personally hand signed by David Bowie.
This is the first time this collection has been on public view.
The exhibition is part of the Popicons.com collection of high-end music memorabilia.
Imaginary Mythologies
08-22 December 2017
Preview on 7 December at 6PM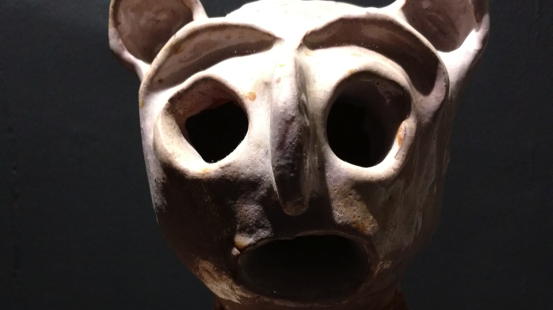 We have all heard about artists being inspired by myths and legends. These artists however have created their own.
The mysterious author of Gubu Dolls has built a history, an epic, a mythic narrative underlying his large-scale installation using individually created dolls, reminiscent of the epic narrative bas-reliefs of the Assyrian or Roman tradition.
Deirdre Nuttall is an ethnologist who crafts benevolent, sometimes tragic deities punctuating the daily life and death of a lost civilisation.
Radical Love #femalelust
Female Arab poets long ago inspiring female artists now

Curated by Róisín O'Loughlin
10-26 November 2017
Preview on 9 November at 6PM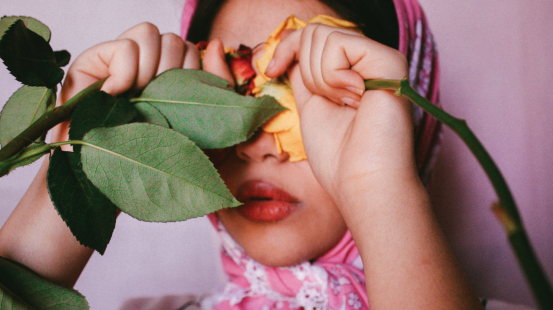 After a successful run at the Crypt Gallery, London and at the Women of the World Festival, Radical Love #FemaleLust comes to Dublin's GalleryX in November. 
Frustrated with the burial of female voices across history, we found inspiration in those that rang out loud and proud across the Arab world over 1,000 years ago. These female poets challenge preconceptions of faith, class and the female experience long ago; they capture what it is to relish life and living. 
"I urge you to come faster than the wind, to mount my breast and firmly dig and plough my body and don't let go until you've flushed me thrice."
Women across the globe, from Ireland to Palestine to Peru, Syria to Saudi Arabia, received these poems and responded with paintings, photography, sculpture, even stained glass.
Radical Love #FemaleLust showcases their artworks alongside the breathtaking poems that inspired them, full of longing and lust, pride and defiance, all sublime in their intensity.
Profits from Sales of Artworks are split between the artists and The Global Fund for Women helping Syrian Refugees. 
The exhibition will be open for Dublin Gallery Weekend with a special concert by Palestinian jazz musician Ruba Shamshoun on 26 November at 3PM.
The Cock and Pussy Manifesto
an exhibition against shame
1-23 September 2017
Preview on 31 August at 6PM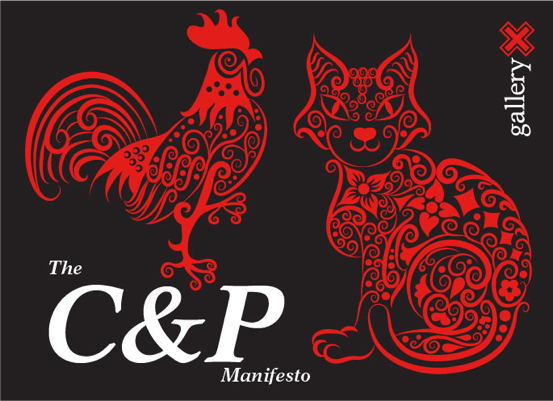 GalleryX opens the season with a punch: an exhibition of Irish and international artists exclusively devoted to genitalia. Although our lives are shaped by them from birth, and although they are the main force behind almost all that we do, genitals are shamefully hidden away in almost every circumstance. It's time to free them, and to do this, it's time to put them at the centre of our attention until the shame slowly melts away. This truly revolutionary exhibition is not really about sex, but about the bodies that we all have, and will be open to all (with parental discretion advised).
21
From "The Cock And Pussy Manifesto"
Conall McCabe: SerialKiller
March 31st - April 8th 2017
Preview on March 30th at 6PM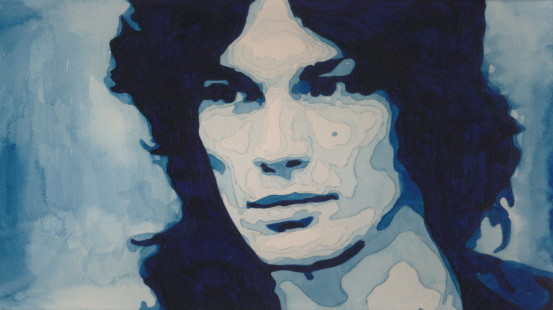 From his studio in peaceful County Wicklow, Conall McCabe, whom many may know as painter of gentler portraits and scenes, has spent the past few years creating a dark and haunting series.
Serial killers have always existed but they became especially prominent in the 1990s. In our collective imagination, they represented the pinnacle of evil and violence. Killing innocents, usually strangers, out of an internal need - and living a lonely, nearly ascetic life devoted to their deranged mission, they exuded a negative spirituality, like angels or devotees of death.
Conall captures the everyday faces of these humans who choose to be non-human, or maybe super-human? and affords us a terrifying glimpse on the darkness that is only one step away from all of us. Can we discern evil in these seemingly normal faces? Aren't they just like our neighbours, our friends, ourselves?
Still Lives
Honouring the Dead
Curated by Deirdre Nuttall
17 February - 11 March 2017
Preview on 16 February at 6PM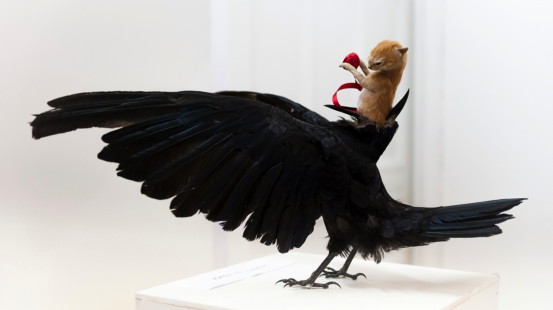 GalleryX is excited to present the first collective exhibition of rogue taxidermy art to be shown in Ireland. 
Rogue taxidermy is a term first used in 2004 to describe a fine art movement that creates mixed media sculptures using the traditional materials of taxidermy or referencing taxidermy and the preservation of bodies. 
This exhibition will bring three of Europe's most accomplished rogue taxidermists under one roof for the first time, together with the work of two photographers whose practice is centred around the portraiture of and our relationship with dead animals.
As an art form, rogue taxidermy has a strong ethical element, of celebration of the lives of animals. By only using found animal carcasses, animals who died of natural causes, or parts salvaged from the meat industry, this work celebrates life even as it focuses our attention on death.
Still Lives honours the unsung existence of creatures that typically live and die without anyone giving them a second thought. Through taxidermy and the use of animal bones and parts and/or photography, these departed creatures are given a second life of a sort, forcing the viewer to confront their own views on mortality, the nature of beauty, the fundamental similarities of all living beings, and the relevance of animal rights to the way we live today.
The exhibition features work by:
The Darker Room
Curated by Deirdre Marie O'Sullivan
20 January - 4 February 2017
Preview on 19 January at 6PM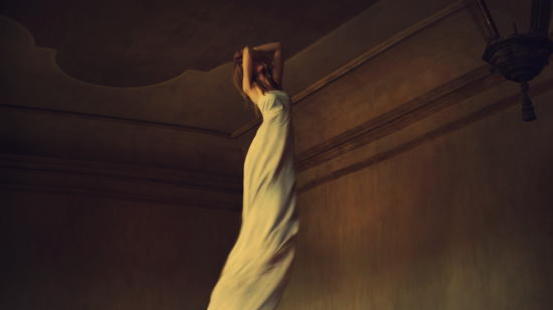 'The Darker Room' is a group photographic exhibition by Irish and international photographers, both up and coming and well known. A collection of discomforting images, a mix of film and digital, these works of portraiture are united by a dark and mysterious mood as the artists engage shadow and darkness in tone, expression, style and mood. 
We worked hard to bring you a mixture of styles so that there will be an image to speak to everyone, some beautiful yet decaying, some dark yet lovable, some soft yet strong, some that are still but that move. Darkness holds a special place in our hearts and in these artists' lives and work. Without the dark, there would be no light and these photographers surely shine a light into a dark world, the darker room.
Featured artists:
Click
here
to RSVP for the show opening, or just show up
Red & Black
The GalleryX Second Anniversary Show
3 - 22 December 2016
Preview on 2 December at 6PM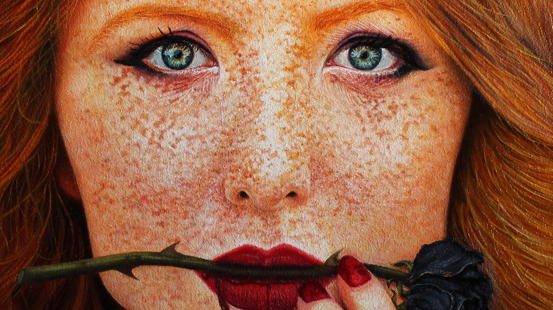 X is for transgression, it's X rated, it's a blank space where you can place your own emotions.
Red and Black; sex and death. There is not much else to talk about.
What are two years in the life of an art gallery? Barely time to learn how to walk – the life of an art gallery is measured in generations. But at GalleryX, we feel that we have learned so much and encountered so much wonder in these 24 months.
This December we are celebrating our second anniversary with another eclectic collection of works from a variety of artists – some Irish, some Irish-resident, and some from as far abroad as Italy, Mexico or Canada.
Featured artists:
Christina Tzani (Greece)
Martina D'Anastasio (Italy)
Nataša Vuković (Croatia)
James Devlin (Ireland)
Carla Secco (Italy)
Jaime Lalor (Ireland)
Riot Über Alles (Spain)
Jeremy Beswick (UK)
Desiree Dupont (Canada)
Jackie Hudson Lalor (Ireland)
Fergal Fitzpatrick (Ireland)
Nevre Le Nevralgie Costanti (Italy)
Boz Mugabe (Ireland)
Claus Word (Italy)
Donatella Marcataio (Italy)
Martin Blanco (Spain)
Sam Ectoplasm (Canada)
Clary Mastenbroek (Ireland)
Paolo Tedeschi (Italy)
Daniele Archimede (Ireland)
Rob Crane (Ireland)
William Gibb Forsyth (Ireland)
Conall McCabe (Ireland)
José A. López Picardo (Spain)
Elena Hertwing (UK)
Mirjam Schiller (Wildheart) (Ireland)
Dolorosa de la Cruz (Ireland)
Click
here
to RSVP for the show opening, or just show up
El Corazón y la Muerte
A landmark exhibition of Mexican dark surrealist art
October 28 - November 27 2016
Preview on October 27 at 6PM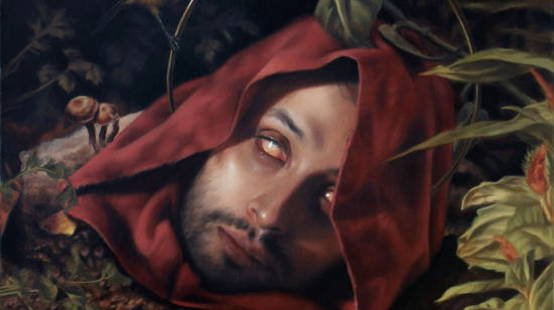 "Ever since humankind gained self-awareness it decided to fight against the passage of time in order to find meaning to its existence. We have devoted all our knowledge, inventiveness, and heart, to defy Death.
Art, as the cathartic instrument for emotions, evokes all that broadens and enriches our spirit; but it mostly purges all that blackens the mind and numbs the heart: the unknown, the unusual and the dreadful reminder of our life's frailty."
For the first time in Europe, twelve of the best young surreal and macabre artists from Mexico are shown together, and Dublin is the location where they are disembarking first.
Featured artists:
Alejandro Barrón
Rodrigo Cifuentes (Co-Curator)
Mario Cinquemani
Ricardo Fernandez
Victor Hugo Jácome
José Luis López Galván
Patrick Mallow
Román Miranda
Rafael Rodríguez
Rolando Sosa
Talía Yañez
and Kikyz1313 (Curator)
Click
here
to RSVP for the show opening, or just show up
Cyril Helnwein: Beautiful Disasters
October 1st - October 22nd 2016
Preview on September 30th at 6PM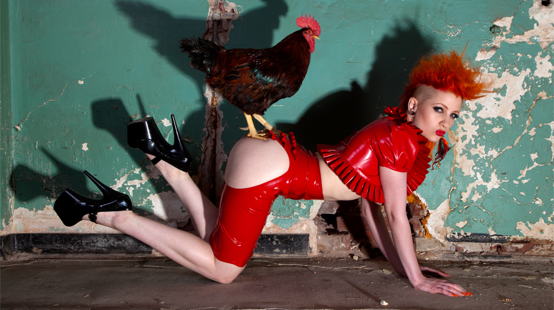 "Beautiful Disasters" is a potent mixture of satire, naked women and irreverent humour; Helnwein's photographs have the instant appeal of Gary Larson's 'The Far Side' comic strips and the type of special effects one might expect at a Rammstein concert.
The photographs in this exhibition are infused with this love for humour. At first glance one might mistake them for conventional glamor shots of beautiful, shapely women, naked or barely dressed, in a variety of compromising poses. But on closer inspection, Helnwein's tongue-in-cheek approach and wicked humor are evident. In 'Holy Shit!' a latex-costumed nun, with black crucifixes taped over her nipples, bows reverently to a pile of feces – over which floats a halo. The 'Asstronomer' features a magnificently caped mystic balancing a telescope on the buttocks of black model while she perches on an elaborate Persian coffee table.
This exhibition will showcase a selection of large limited edition prints from his exciting and humorous "Beautiful Disasters" series. The 95-page coffee table book "Beautiful Disasters" is also available at GalleryX.
Click here to RSVP for the show opening.
The Cabinet of the Solar Plexus
September 10th - September 24th 2016
Preview on September 9th at 6PM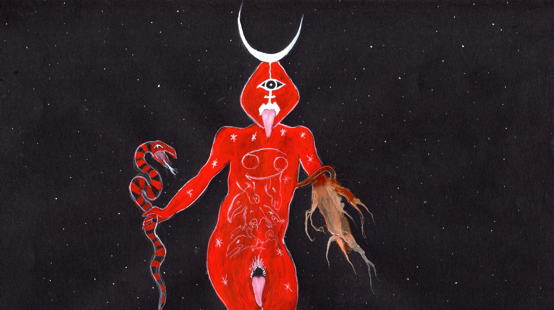 The Cabinet of the Solar Plexus & Gallery X present this landmark exhibition of international esoteric and arcane art. This is not only the first event of this kind for Ireland, but also the first time works by legendary figures such as Austin Osman Spare, Hans Bellmer, and Leonor Fini - amongst many others - will be exhibited in the country.
Unrestricted by dogma or shared ideology, this exhibition encapsulates the vibrant and expansive scope of esoteric and ecstatic art, and shall afford the viewer a rare opportunity to be enchanted to the most exotic outer reaches of the imagination and the spirit.
Artists and performers:
Austin Osman Spare, George Russell (Æ), Nema Andahadna, Amodali Zain, Leonor Fini, Michael Bertiaux, Barry William Hale, Paul Holman, Val Denham, John Balance, Hans Bellmer, Peter Dyde, Roberto Milusic Migliussi, Wladd Muta, Andre Masson, Hagen von Tulien, Jon Witzky, Jónas Sen, Andrea Kundry, Julián Moguillansky, Edgar Kerval, Daniele Santagiuliana, Álvaro Barcala,Steven Stapleton, Isabelle Gaborit, Alan Kostrenčić, Bogusia Matylda, Luciana Lupe Vasconcelos, Brian Conniffe, Charlie Martineau,David Beth,Una Gildea, James O, Orryelle Defenestrate-Bascule,Victoria Musson, Andreuch O Maonaigh, Damien Echols, Dolorosa De La Cruz, and master of ceremony Graham Duff!
Click here to RSVP for the show opening.
Behind You - One Shot Horror Stories by Brian Coldrick
August 19th - August 27th 2016
Preview on August 18th at 6PM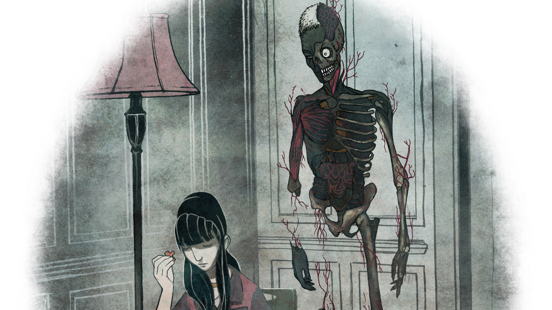 An exhibition of prints by Brian Coldrick, Behind You is an ongoing series of one shot horror stories. Each is a single illustration paired with a line of text, which suggests a wider story but leaves what comes before and after up to the viewer. Taking inspiration from spooky internet stories, myths, films, tv and literature, the collected tales are a mix of the amusing and genuine creepiness.
The exhibition is presented as part of the first Dublin Ghost Story Festival.
Brian Coldrick is an illustrator and artist originally from Dublin, now based in the UK. His work has ranged from designing monsters for Doctor Who to comic book covers to Sloth themed board games.
Click here to RSVP for the show opening.
Juha Arvid Helminen - The Invisible Empire
June 17th - July 9th 2016
Preview on June 16th at 6PM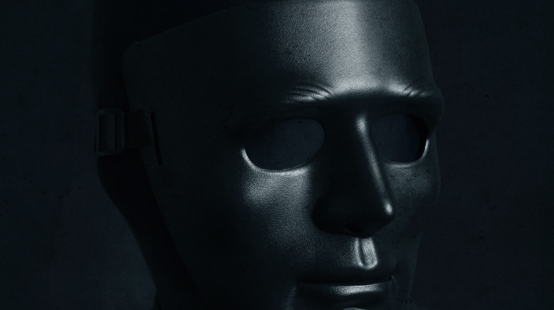 GalleryX is excited to announce the Irish première of the work of Juha Arvid Helminen.
His series The Invisible Empire is a haunting series of portraits that evoke the dehumanization inherent in the use of uniforms and masks, contained in perfectly staged images of stark beauty.
The show will consist of older works and new ones made specially for this The Invisible Empire Dublin exhibition, part of PhotoIreland 2016.
Juha Arvid Helminen (b. 1977 in Helsinki) works as a freelancer photographer, artist and a teacher. He graduated in 2010 from Lahti University of Applied Sciences as a photographer (BA). Helminen's work deals with the misuse of power in society.
"In 2006 I witnessed the so called Smash ASEM "riot". There I personally saw the dark side of the Finnish police. How young men hid behind their uniforms and hoods and anonymously committed misconduct.
We wear clothes described by religion, profession, political thoughts and tradition to communicate and represent authority, where we belong and how we see the world. Often this hides our true persona and creates walls between ourselves and between the people that we meet."
Click here to RSVP for the show opening.
STICKY
The Art of Erotic Collage
May 6th - 21st 2016
Preview on May 5th at 6PM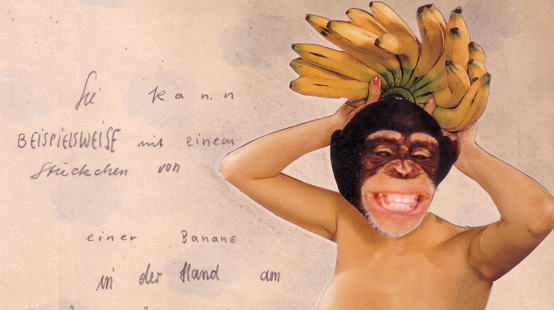 The idea of mashing together others' images, which is pervasive in popular and online culture today, originates with collage. Collage, and more specifically, photomontage, is also a quintessentially surrealist medium, playing as it does with perspective and with the alienating effect of re-contextualisation.
Using erotica as a source material for collage adds another dimension to this postmodern artistic endeavour: a category of images that has traditionally been relegated to the bottom of the drawer becomes the centre point of a new work of art.
The artists included in this exhibition all conspire to liberate erotica from its confines and turn it into surrealist art.
Featured artists:
Una Gildea (Ireland) - co-curator
Sonja Gajic (Serbia)
Kuromoon (Spain)
Anna Lewenhaupt (UK)
Silvia Luz (Portugal)
Agustín Power (Spain)
Ben Reyer (Austria)
Kerstin Stephan (Germany)
Andrei Strachov (Ukraine)
Click here to RSVP for the show opening, or just show up
Nihil - [ventre]
April 8th - 29th 2016
Preview on April 7th at 6PM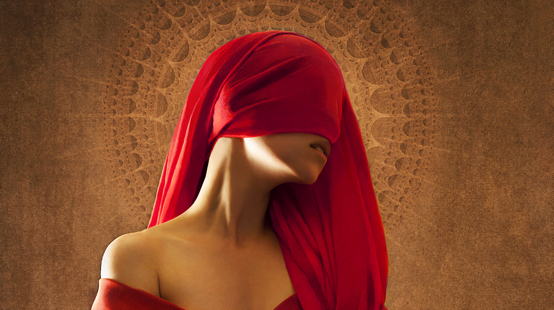 GalleryX – the new Dublin space for unsettling art – is delighted to introduce to Ireland the work of French digital artist Nihil.
Nihil is a writer, photographer and digital artist living in Norway. Inspired by ancient sacred texts, psychedelic trips and life experiences in hospitals and medical research centres, his texts and images reflects on transcendence, identity and individuality.
His work has been featured in two personal exhibitions in Paris and Berlin and he participated in numerous collective shows in USA and Europe. His artworks have been published in art books and magazines and are part of the permanent collection of the Contemporary art museum in Sicily. He first showed in Ireland as part of GalleryX's Anniversary Show in December 2015. 
Click here to RSVP for the show opening.
Christina Tzani
January 23rd - February 20 2015
Preview on January 22nd at 6PM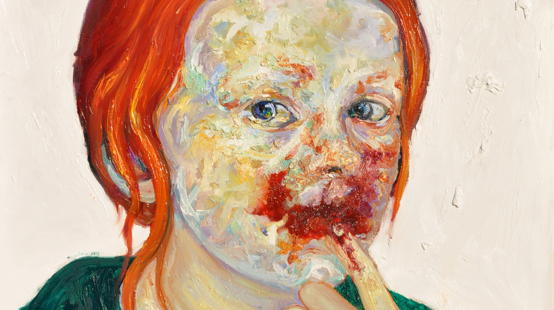 The first Irish exhibition by this talented young painter from Greece, who lures you in with reassuringly bright colours, only to make the horror of child abuse harder to bear.
Featuring works in oil and ink on canvas and paper, this is the first ever solo show at GalleryX.
The GalleryX Anniversary Show
December 3rd - December 23rd 2015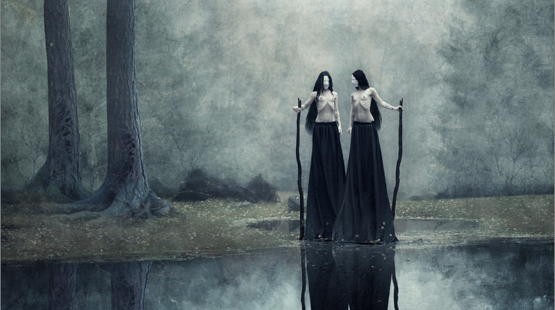 An amazing collection of outstanding Irish and international artists, celebrating the first year of our little dark space - the first gallery in Ireland devoted to dark and unsettling fine art.
Featured artists - in alphabetical order:
Aryana Ahmad
Néstor Avalos
Vaughn Bénéteau
Tanya Bond
Daria Endresen
Arturo Esparza
Eleonora Helbones
Kaos Nest
Simon Lejeune
Eoin McEvoy
Mairéad Mc Guinness
Lucy Meagher
Nihil
José A. López Picardo
Christophe Prades
Shirrstone Shelter dolls
Sicioldr
Katarzyna Sliwa
Check out the pictures of the opening night!
MASQUERADE
A journey into the art and imagery of masks and masking
October 23rd - November 22nd 2015
in our new venue in 65 South William Street (1st floor)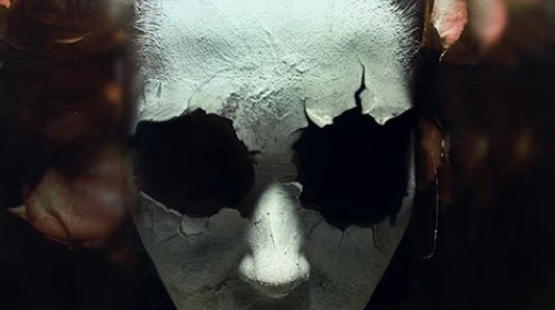 This group mixed media exhibition is an exploration into the psychology and expression of masks and masking.
Curated by Irish architect and artist, Fiona Killeen MRIAI, the collection gathers artworks from around the world in an unique and haunting display of oils, photography and sculptural pieces. 
Timed in conjunction with Dublin's Bram Stoker Festival, it tips its hat towards Stoker's macabre world of the dark, unseen and why lies beneath our own masks. GalleryX is the perfect host for this collection and it's a must-see for mask-collectors, fashion-explorers and lovers of dark fine art.
The exhibition includes work by:
William Gibb Forsyth
Cyril Helnwein
DiHaze
Candice Angelini
Nika Danielska
Vaughn Beneteau
MothMeister
Federico Bebber
Bartman
Eduardo Hoffmann
Irene Gaspari
Hysteria Machine
Fi Killeen
Martin Blanco
GLORIOUS SHAME
An Exhibition by the Hysterical Women Collective
September 18th - October 16th 2015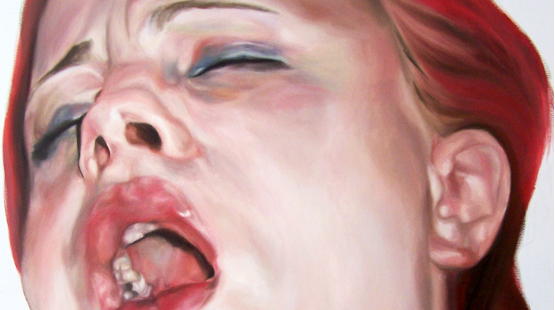 GalleryX is proud to present Hysterical Women's project "Glorious Shame".
Scandalous secrets are revealed and glorified. The shameful is revered. Taboos are sanctified. Come and stare into the darkest corners of your mind.
Hysterical Women is an international art collective based in London.
Showing artworks ranging from painting, sculpture, collage, installation to printmaking, this exhibition promises to free you from your inhibitions.
Featuring artworks by:
Alexandra Unger
Anna Lewenhaupt
Emma Harvey
Indrani Ashe
Marcela Iriarte
Julia Maddison
Suzann Kundi
The show will open on Culture Night with a performance by Alexandra Unger.
CAUDA PAVONIS / BESTIA FERA SPIRITUS
August 21st - September 4th 2015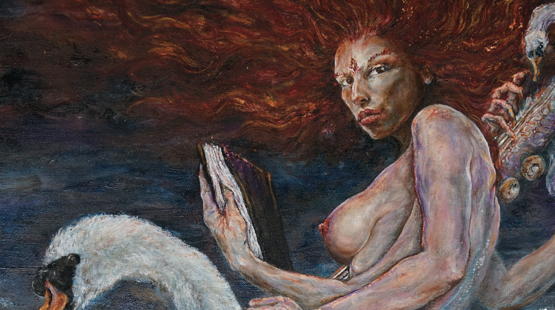 GalleryX is proud to present the first Irish appearance of Australian artist and performer Orryelle Defenestrate-Bascule, who will join forces with local talent Dolorosa De La Cruz for an alchemical and esoteric phantasmagoria.
The show will feature colour works focusing on the Cauda Pavonis or Peacock's Tail phase of Alchemy, oils and peacock-egg-tempera paintings from his new book Distillatio (publ.Fulgur Esoterica), plus an Alchemical chess set of bronze, clay and glass.
Orryelle will also be performing new music (violin, voice, FX pedals) and ritual theatre at the Opening of the exhibition.
Chasing Shadows
June 25th - August 6th 2015
Part of the Photo Ireland festival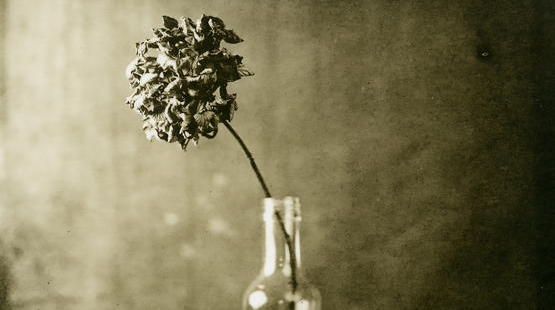 Chasing Shadows is a photographic art collective based in Ireland. Founded in 2010, its members incorporate historic and alternative photographic process into their visual arts practices.
After a very successful exhibition at DIMBOLA the Julia Margaret Cameron centre on the Isle of Wight in the UK, they are returning to Dublin with an exhibition at GalleryX in Herbert Street from the end of June until the beginning of August.
Members showing are:
Alison Baker-Kerrigan
Dominique Beyens
Caitriona Dunnett
Monika Fabijanczyk
Remco de Fouw
Louis Haugh
Jamie Maxwell
Ian Mitton
Sharon Murphy
Marie Murray
Linda Plunkett
Adrian Reilly
Karl Sheridan
Kyle Tunney
Dominic Turner Gwen Wilkinson
and members of the London Alternative Photography Collective.
Check out the Facebook event for details.
Making Out
The Exquisite Diversity of Desire
An Exhibition in support of #YesEquality
May 15th - June 14th 2015
Preview on May 14th @ 6PM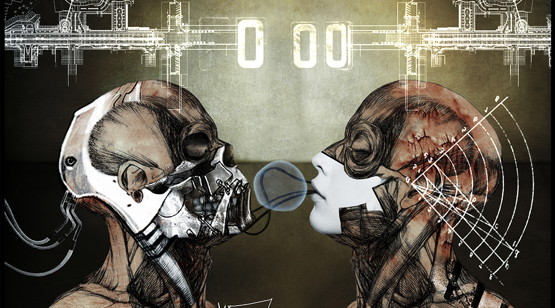 'The Muses' by Angel Roy
"Making Out, The Exquisite Diversity of Desire" was organised in support of the #YesEquality campaign and features works in a variety of media by a set of acclaimed Irish and international artists
Jim Fitzpatrick (Ireland)
Orryelle Defenestrate (Australia)
Dolorosa De La Cruz (Ireland)
Louise Dumont (France)
Stuart Edwards (Canada)
Alessandro Gaggio (Italy)
Cyril Helnwein (Ireland)
Christian Hofer (Ireland)
Elodie Huré (France)
Harriet Myfanwy Nia Tahany (Ireland)
Ulli Richter (Germany)
Darran Robinson (Ireland)
Angel Roy (France)
Italia Ruotolo (Italy)
John Santerinoss (USA)
Katarzyna Sliwa (Ireland)
Alexandra Unger (UK)
The show includes original paintings, drawings, digital art, sculpture, ceramics and limited edition prints.
Please click here for launch party pictures.
The Macabre Gallery Show I
In partnership with The Macabre Gallery
March 27th - May 1st 2015
Preview on March 26th @ 6PM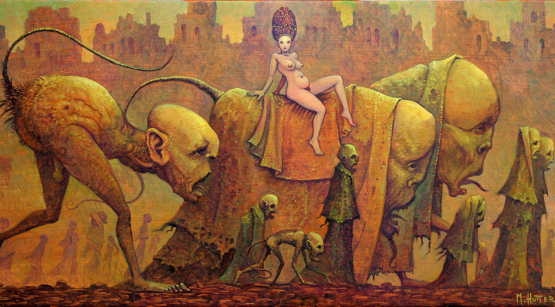 'Babylon' by Michael Hutter
The Macabre Gallery are pleased to announce their first exhibition in Ireland featuring artists from around the world, most of whom have never exhibited in this country:
Saturno Buttò (Italy)
Michael Hutter (Germany)
Tomasz Alen Kopera (Ireland)
Sandra Yagi (United States)
Trez (France)
Jean Francois Bouron (France)
Christine Morren (Belgium)
Arturo Esparza (Mexico)
The show includes original paintings, drawings and limited edition prints.
Please click here for pictures of the opening, attended by over 100 people - including the Cultural Attaché of the Embassy of Mexico in Ireland.
Into the Dark
February 13th - March 20th 2015
Preview on February 12th @ 6PM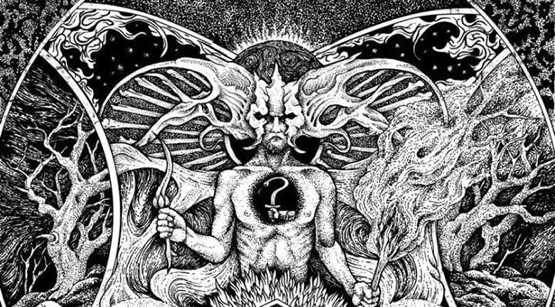 'Corpus' by Rotten Fantom
GalleryX lures you back into the dark with a new group exhibition of beautiful artistic disturbance.
With a theme of the occult, the arcane, the magical, the symbolic, the mystical ... this collection brings together works from all over the world that express that primal interest and connection with the world that is not seen. Some exquisite works, in various media, that will intrigue, unsettle, enrich and evoke.
Will you follow us into the dark?
Artists include (in no particular order):
NOROT (USA / IRL)
Jeremy Beswick (UK)
Rotten Fantom (Russia)
Magda Zak (IRL)
Ariadne Castro (Portugal)
Irene Gaspari Photography (Italy / IRL)
Fi Killeen Photography (IRL)
The show includes original drawings, paintings, photography, sculptures, and limited edition prints.
Please click here for pictures of our opening party!
GalleryX opening
December 4th, 2014 @ 6.30PM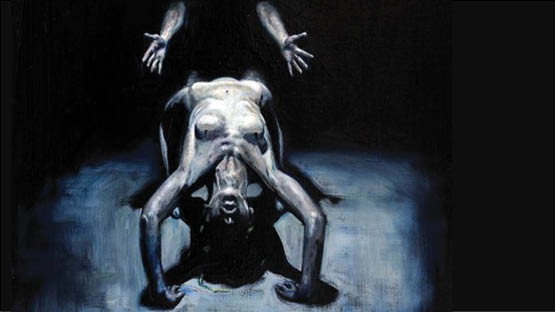 'Pazuzu' by Daire Lynch
On 4th December 2014, GalleryX opened its doors and began to give a platform for art that provokes, disturbs, evokes and excites.
Our first group show is an exquisitely odd collection of 13 Irish-based artists, which will run from December 5th 2014 to January 9th 2015.
The show includes paintings, photography, sculpture and unique latex art and prints.
You can have a look at the photos from the launch here and see the artworks here. Or like us on Facebook to stay informed.
---
Please contact us for more information on our plans for 2018 and beyond.